Nihonga Class in Omotesando,Tokyo  (2016)
●Workshop-1 day (2hrs)

intensive class

5,000yen (Materials include) 

●Regular-5 

15,000yen (w/o materials) / 20

,000yen 

 

 (w materials)

●Private Lesson (2hrs~)

10,000yen 

〜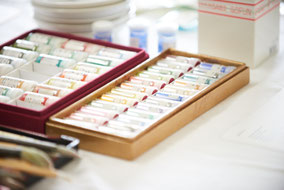 【Workshop】and 【Regular】
Class in English and Japanese. All levels are welcome! 
You will lean how to create your own Nihonga painting.
Recommend to set up for your materials for advance students or individual projects.
Pre-registration required!!!
Tuesday
①12:00-14:00 ②15:00-17:00 ③17:30-19:30 
 Wednesday
①12:00-14:00 ②15:00-17:00 
 Thursday
 19:40-21:40
 Saturday
①12:00-14:00 ②15:00-17:00 ③17:30-19:30 
【Drawing WS】
Wednesday 15:00-17:00 
first session : 3500yen
【Private Lesson】
Tuition: 10,000yen 〜
 Location:渋谷区神宮前5−49−7 丸岡ビル4B (東京メトロ表参道駅 B2出口)
Venue: 4B Maruoka Building, 5-49-7 Jingumae. Nearest stn: Omotesando B2 exit.
ご予約/To resister:nihongart@gmail.com or 03-6418-1006 (mon-fri 10am-5pm)
Online Register
http://www.mariatanikawa.com/contact/
CANCELLATION Policy
If you have booked a place and are unable to attend the term for any reason, please let me know as soon as possible so that your place may be offered to someone else. Thank you for your understanding.
Cancellations 2 days prior to start of class can receive a transfer into a different day or can receive a full refund.

No refunds or transfers are available for no shows or cancellations within 24hours of the class.
Please feel free contact at nihongart@gmail.com  
April 29-May 5 Golden Week WS schedule! (2016.5)
7/13/2014 Nihongart by mariatanikawa x ©wasara x 東京十月 (2014)
My new project of workshop on July 14th at Bar Tokyo Octobre (http://www.tokyo-jugatsu.com/)
We are going to paint on Eco Natural, Tree-free tableware with Nihonga materials in beautiful Traditional Japanese tatami room.
wasara
http://www.wasara.jp/e/
東京十月Bar Tokyo Octobre
http://www.tokyo-jugatsu.com/
Nihonga class at Nippon Club course (2010-2013)
Class schedule at Nippon Club.
Wednesday: 11:00-13:00

Please save your seat in advance.   

やさしい日本画教室
(水曜日)11:00〜13:00 8/7 (8/2), 8/14 (8/9), 8/21(8/16), 8/28(8/23)   
※要予約。前週の金曜日(カッコ内の日程)までにお申し込みください。  

Phone:212-581-2223 
E-mail: culture@nipponclub.org

Summer workshop in Tokyo from NYC (2013)