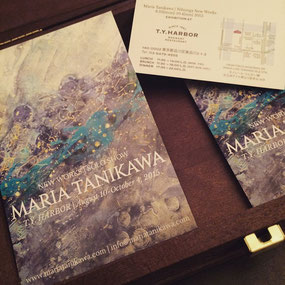 Hello Tokyo friends! This is my first show at T.Y. HARBOR(restaurant) in Tennouz Isle since moved back to Tokyo from NYC. Please check my new works with great foods and beer! Sorry, NO opening party, but I will be there often! Please contact me when you are around.
東京のみなさま、この度天王洲アイルのレストランT.Y HARBORにて新作を展示させていただきます。長期に渡る展示なので、在廊日は特にありませんが 美味しいビールやランチでもご一緒しながら見ていただけたら幸いです。
日程:2015年8月10日(月)~10月4日(日)
場所:T.Y. HARBOR 東京都品川区東品川2-1-3
TEL:03-5479-4555
LUNCH      11:30〜14:00 L.O.(MON-FRI)
BRUNCH    11:30〜15:00 L.O.(SAT, SUN, HOL)
DINNER     17:30〜22:00 L.O.
WEBSITE:https://www.tysons.jp/en/