NIHONGART© by Maria Tanikawa from Tokyo
All Classes move online (4/25/2021)
Nihongart lesson is cancelling  all "in person classes" during
April 25th-May 11th, 2021.
◆All classes move Online.
For further information on any of our classes please feel free to contact me here.
 The class will be limiting the number of students inside my studio in accordance with current social distancing guidelines. 
✓Use Hand sanitizer at the door.
✓Wearing Mask
✓Opening windows
looking forward to seeing you again soon!

NIHONGART(Nihonga painting) Class in English and Japanese. All levels are welcome!
You will lean how to create your own Nihonga painting. The 2-hour duration of this unique Nihonga pigment painting workshop is ample even for beginners to produce a finished work of art. The classes are semi-private and special attention will be paid to your work. Of course, you can take the art you create home as a souvenir! I will provide the necessary materials so you don't have to worry about it. You will learn and use painting methods that are different from popular watercolor or oil techniques. We'll use Japanese pigment, sumi ink, brushes, Washi paper, and an uchiwa fan. I can provide sample images for painting, but if you wish to make your own design, please bring sketches or photos. 
※This is adults only program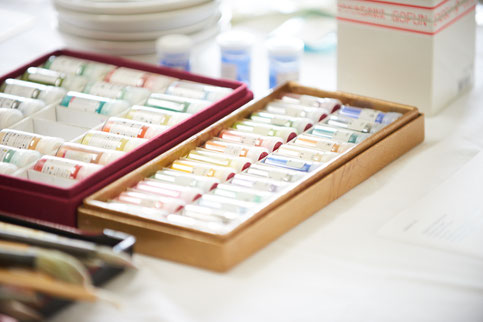 1day WS (Tuesday&Thursday)
①17:00- ②19:00-
Saturday
①10:30-12:30 ②13:00-15:00  ②15:30-17:30
Sunday
①13:00-15:00 ②15:30-17:30
【Private Lesson】
Tuition: 20,000yen 〜
Online Register
http://www.mariatanikawa.com/contact/
How to pay
○pay via online
タニカワマリア
CANCELLATION Policy
If you have booked a place and are unable to attend the term for any reason, please let me know as soon as possible so that your place may be offered to someone else. Thank you for your understanding.
Cancellations 2 days prior to start of class can receive a transfer into a different day or can receive a full refund.

No refunds or transfers are available for no shows or cancellations within 24hours of the class.
April 29-May 5 Golden Week WS schedule! (2016.5)
7/13/2014 Nihongart by mariatanikawa x ©wasara x 東京十月 (2014)
Nihonga class at Nippon Club course (2010-2013)
Summer workshop in Tokyo from NYC (2013)